Discover card has announced that they are bringing back the secure online account numbers and if I could do a backflip I would  do one right now. For those who not know, the secure account number is a number generated by Discover that you can use for one merchant when you shop online.
This account number is secure because it is not your real number on your physical card but it is a temporary number that allows you to make a one time purchase.
In this way the card prevents you from online fraud because no one has your real account number. Discover had said a short while ago that they were discontinuing the program for various reasons. I guess the public outcry was too much because I got the following email stating that the program was back!!!!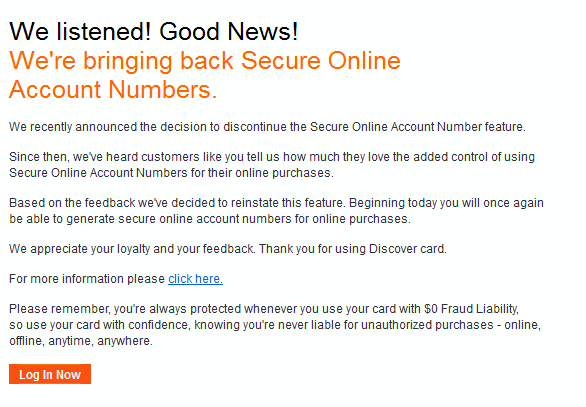 This is essentially a throw away number and it expires in a short period of time so that even if you use it somewhere that tries to automatically sign you up for an extended time the number will not work.
I think this is GREAT news because it offers another level of protection from fraud and is ONE more reason I love my Discover card.