Today I paid $10.83 for $31.24 worth of items. I am so stocked up on candles for now so I guess no more buying Glade for me for a while.
The cashier was rude to me today (BAD cashier) because I was handing her the coupons in groups because that was the order I wanted them processed in. She first said that I had too many coupons (I had 5) and there were too many people in line (there were two behind me) for her to deal with this today.
She rang up the free oil holder ($3.74) as $2.50 cash back, which was incorrect. I told her that it had rang up as $3.74 so she needed to deduct $3.74 from the total and not $2.50 because the coupon said buy oil candle get one oil holder free up to $7.00. She insisted that the oil candle was $2.50 so that was what we needed to deduct. Are you kidding me?
I finally got it straightened out and complained to the manager about her….the manager apologized and gave me the number to the corporate office to complain. I will be calling this time because this particular cashier is driving me nuts with ringing my stuff up wrong and then being rude about it.
Transaction 1
Item: Glade candles, oil refills (total 12 items)

Price: 4 for $10

CVS Extra Care Bucks earned: $10.00
Total coupons used: $9 ECB + BOGO on oil refills and oil holder +$2.00 off oil candles + $1.50 off jar candles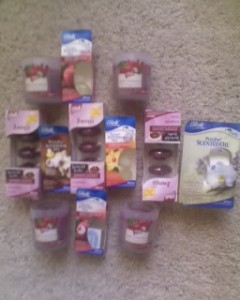 Amount Due today (paid with gift card): $10.83
Total out of pocket today: $0
Total CVS Extra Care Bucks earned today: $10

Total out of pocket to date: $189.16
Gift Card balance : $30.97
Total CVS Extra Care Bucks earned to date: $566.59
CVS Extra Care Bucks Used to date: $556.59
CVS Extra Care Bucks Balance: $10
Abbreviations used
MFR = manufacturer coupon
ECB = extra care bucks
Join me next time as I look for more ways to save money as I visit CVS.