So Lent has begun and for us Catholics it is a time to really reflect on our lives and in order to do this we make a sacrifice by giving something up. I once gave up red meat and juice for Lent but that was a bit too easy after a while as I rarely eat red meat to this day. This year I have decided to give up sweets and desserts because that is a lot harder for me right now.
I thought about some other things I could give up like:
Going to CVS
Watching television
Buying new clothes
but came up with a roadblock for each of those things. I do not go to CVS every Sunday any more so giving up a twice a week habit did not seem like much of a sacrifice.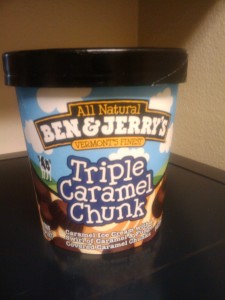 I only watch my actual television on Mondays and then get my shows from Hulu during the rest of the week. Since I am taking this online class I allow myself to watch a show after I am done with my coursework for the day and even then I only spend about one hour a day watching stuff like CSI or House.
I am *cough* in between sizes right now as I am trying to lose 10 lbs and I am not a girly girl so I have not been interested in buying clothes or shoes…although I will go crazy for scented candles and body splashes!!!!
I decided to give up sweets and desserts because lately I have become really close friends with two guys by the name of Ben and Jerry. They seem to be related because they share the last name of TripleCaramelFudge (odd name, must be foreign!!!!) and they have been visiting me about twice a week.
I also started a friendship with Sara Lee Cheesecake and she comes around when Ben and Jerry are busy. So in all I have been eating some form of dessert every other day and that is ruining my weight loss goals as well as my health, despite eating more fruits and vegetables every day.
I know that it may seem a bit trivial to you but the sacrifice is about something that you always do and that you need to cut back on so that you can see a noticeable difference in your life. This is not only one of the ways to save money that I am always talking about but it is also good for my health because I will be eating less processed food and refined sugars.
I will be saving money because I will not be buying junk food just to have something to eat, when there is yogurt or fruit in the house. It will also help with my weight loss because my calories will be coming from better food that is not instantly converted to fat.
So for Lent I will be giving up my BFFs Ben, Jerry and Sara, and all their relatives like 'Big Red' so that I can come out healthier in both spirit and body at the other side of Lent.
What are you giving up as your Lenten sacrifice this year?