I got some new candles and a wallflower from Bath and Body Works. The candle day was not what I expected, so I went back another day to shop at a leisurely pace.
(If you are not reading this post at www.howisavemoney.net or in your feed reader, it may have been stolen from my site.)
This time I got two candles and one wallflower. I had a coupon for $10 off $30 and this was the best combination to use for getting candles.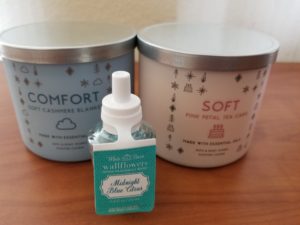 What I Paid
The candles were priced at $12.95 today and the wallflower was $6.50. After taxes and using my discount I got all three items for $24.25 total!!
What I Got
Comfort: This candle is a soft blend of notes and smells a little like baby powder to me.
Soft: This is a truly delicious blend of a bakery note with a slight hint of rose. Sort of like a rose pastry!
Midnight Blue Citrus: This wallflower is fresh and citrus-y and will be used in my office at work