So you've recently purchased a new home printer and were pleasantly surprised at the relatively low cost? We hate to be the bearer of bad news, but the sting in the tail comes when it's time to replace your ink and toner cartridges. Printer ink is in fact one of the most expensive liquids per millilitre in our current marketplace, with printer manufacturers offering incredible deals on technology in anticipation of recouping costs through over-priced cartridges. Here are a few tips to make your ink cartridges and toner go a little bit further and ideas for saving money instead of splashing out on printer essentials.
What Printer?
Before you plump for that bargain printer or a snazzy new model, you should do your homework. It may sound boring, but it makes sense to stop and think before you are seduced into making such an essential purchase, particularly if your run a home-business. Check how much replacement cartridges will cost and look at the page yield of each cartridge. This is a more reliable way of judging how much you'll get out of your printer than researching the cost per volume of ink. Furthermore, a laser printer may initially cost more than an inkjet, but will prove cheaper to run over time. Choose a color printer with separate cartridges for each shade, that way you'll only need to replace each individual color as and when required.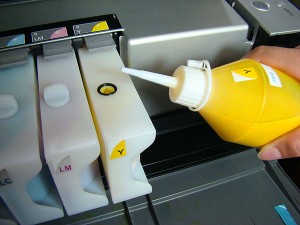 Is It Really Empty?
Sometimes your printer will tell you that you're out of ink when you've only recently replaced your cartridge. The truth is that some manufacturers have recently run into trouble for pre-programming their printers to inform consumers that their ink cartridges are empty when there is still some ink remaining. Before you buy replacements first try removing the cartridge, giving it a shake and replacing it. This can trick your printer into believing a new cartridge has been installed and yield a few more pages.
Try Remanufactured Cartridges
Sometimes called refilled cartridges, remanufactured cartridges are a popular technique for saving money on the cost of printer ink. They are much cheaper than genuine cartridges (sometimes up to 60% less) and are excellent if you're printing a bulk black and white job. Choose wisely however, as a lot of remanufactured cartridges are filled with generic inks. These can be thinner than genuine ones and cause leaks and damage your printer. If you're a dab hand at DIY you could even try refilling your cartridges yourself.
Buy Compatible Cartridges
Don't automatically assume you have to buy the same brand of cartridge as your printer. Check out what compatible cartridges are available from lesser known manufacturers. These have been specifically designed to work with your printer model, but cost significantly less than big-name brands.
Look at Your Settings
By changing the settings on your printer you can dramatically reduce the cost per page. Use the draft, greyscale or economy setting and your printer will work at an increased speed, using much less ink in the process. This technique is best applied when the quality of your printout isn't too crucial, and isn't recommended for formal documents or presentations.
Print More!
It may sound like a contradiction, but the less you use your printer the more quickly your ink cartridges will dry out and need replacing. Try to print out a black and white document in greyscale or draft once a week – black inks are cheaper to replace than color.
Check Your Typeface
Century Gothic is said to be the most economical font as it's a thin, sans serif typeface that uses less ink. Arial and Times New Roman are also recommended. You could try downloading the software for Ecofont, a new typeface that punches miniscule holes into each letter that subsequently cuts down on ink consumption.
Print What You Need
This especially applies if you're printing a document from the internet, as there may be advertisements, portions of text and images you don't actually need. So instead of automatically opting for your print screen function, highlight the areas you want to print to avoid unnecessary ink consumption.
Before You Hit Print…
Have you thoroughly proofed your document? Have you reviewed your print preview? These simple and obvious steps that we are all guilty of missing are the simplest way to avoid mistakes that lead to wasted ink and paper – it's well worth the extra five minutes it takes!
__________________________________________________________________________________
Author Bio:
This guest post was contributed by Clickinks.com, an online retailer of printer ink and toner cartridges. Clickinks sells both OEM and remanufactured cartridges, and offers factory-direct prices up to 86% lower than competitors. Visit Clickinks.com to search by printer model and cartridge number to get the discount ink cartridges you're looking for!