Welcome to Money Mondays!
(If you are not reading this post at www.howisavemoney.net or in your feed reader, it may have been stolen from my site.)
I used to post my financial inflows and outflows on Fridays in the past but I decided to move this to Mondays instead. I normally go grocery shopping on Sundays after church. I will now post the last week's worth of financial inflows and outflows on Monday so that I can include the weekend spending as well.
This week my financial outflows were:
$19.20 on various cuts of crusted salmon and tilapia. The package has two large filets and normally goes for $6.00 each but I got two of them for $3.60 since they were close to the sell by date.
I also spent $15.90 on a fecal exam for my cat who had surgery last week. This may be a bit TMI but I noticed her stools were very dark and I was worried. It turns out it was nothing, just a side effect of the antibiotics she is on so I consider it money well spent for my peace of mind.
$14.61 on some hand soaps and body washes from Bath and Body Works during the semi-annual sale. I got 2 hand soaps and 2 body washes from 75% sale because those are really good items to stock up on when they are on sale.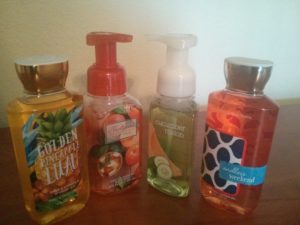 The items were regularly priced at $12.50 but ranged from $3.13 to $3.75 during the sale. I know I was supposed to be taking a break from buying body care items but I did say I would get more if the sale came on!!!
I love Bath and Body works items and I buy candles ALL the time…but I do think that $12.50 is too much for the soaps and body washes and shower gels. I think it is a great idea to stock up on the items I love during the Semi Annual Sale because they are non-perishable. This means I can buy items that will last me a few months and not have to worry about shopping for them later on!