Today's free sample comes from Arm & Hammer toothpaste.  Go to true taste of clean to get your FREE sample of toothpaste.
I love Arm & Hammer toothpaste because I have sensitive teeth and it does not hurt my teeth but still works really well.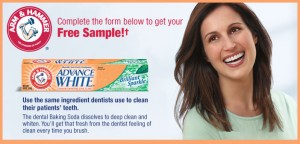 I also love free stuff so this is a win win situation. The sample takes about 6 to 8 weeks to arrive once you fill in the forms.