Tom Torbjornsen wrote the book How to Make Your Car Last Forever

in order to help car owners save money on their vehicles by keeping them in great shape. The book promises to offer tips that can help you keep your vehicle in top shape so that it can last longer than you ever thought possible.
I received this book to do a review and my first thought was that the name was a bit misleading. It probably should have been called How To Make Your Car Last Longer Than You Thought or something similar because we all know that sooner or later the car WILL give up and die no matter how well you take care of it.
I decided to go ahead and read the book to see what tips I could get from it and see if I could extend the life of my car by following simple tips. The book is arranged into three main sections:
-Vehicular Systems
-Rules To Follow To Make That Car Last Forever
-Straight Talk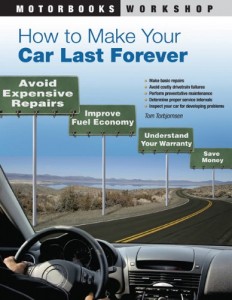 Vehicular Systems talks about the interior workings of the car like the engine and the braking and cooling systems. This section of the book made you more aware of the various components of the inner workings of the car and I think it was good information for a budding mechanic, but it did overwhelm me.
Rules To Follow To Make That Car Last Forever talks about the things that you can do like checking your fluids and ways to summerize and winterize your car. This section detailed the importance of keeping your car clean both for resale value and for the longevity of your vehicle.
Straight Talk talks about warranties and the things you can do that will make sure your car gives out on you very early and probably in an embarrassing or dangerous situation. I was surprised to learn of some of the things that were not covered by warranties and I think that this is an excellent section of the book. I would have preferred to see this section closer to the front instead of all the more technical stuff that was in the earlier chapters.
I thought the book was a bit heavy on the technical stuff for a casual operator like me because there is no way I would be changing lights in my car. I can change wiper blades and that is about it when it comes to poking around in the car. It is a very good book for those do it yourself types who would really want to do those things so I guess the book caters to all levels of experience.
For people like me we can just pick the parts that we want to do and take the vehicle in for the rest, while the budding mechanics can get into the more detailed operations. One thing that I really liked about the book was that it offered large, colorful images of the parts of the car so you could see what they are supposed to look like if they are clean and well functioning.
The images were interspersed with short batches of questions from drivers that were then answered by the author, Tom Torbjornsen, in easy to read language. There was also a do it yourself section that gave detailed tips on how to do things like:
-change your wiper blades
-replace a turn signal bulb and
-change a tire
In general I think this is a well written book that covers vehicles for both casual users like me and the more experienced car enthusiasts out there so if you don't have a copy you will find it well worth it to get one.
(Please note that you can BUY the book:How to Make Your Car Last Forever

here by using my amazon link as well or you can go directly to another source)
I encourage you to to subscribe to the feed so you can keep up with the latest happenings here at HowISaveMoney.net