Hello everyone, today I will review and do a giveaway for the CHoPstick Styler. This is a skinny curling wand that is supposed to make tight waves and curls.
The CHoPstick Styler comes in a bright pink box. You can order it off Amazon by clicking here!!!!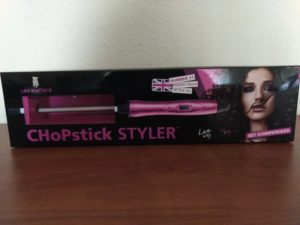 Here is the back of the box.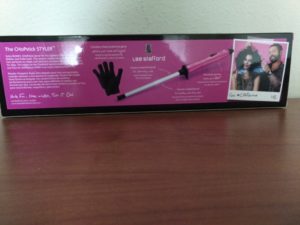 Here is what the styler looks like in the box.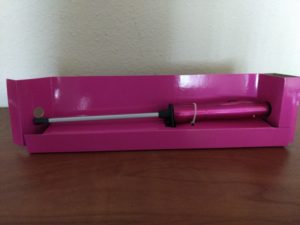 The box comes with the following items:
-CHoPstick Styler
-Heat protecting glove
-Instructions manual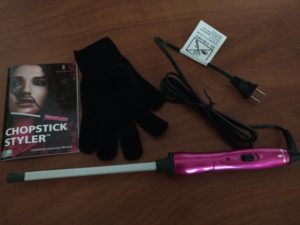 Having all these extras  is very convenient.
The wand itself was easy to use, even without reading the directions booklet. I plugged it in, grabbed a small chunk of hair and wrapped it around the wand.
At first I was a bit put off honestly because the curl has these squared edges because of the shape of the wand. I brushed them out and could still see the edges.  With this wand, I had to run the brush through a few more times than I normally do before the squared edges loosened up. After brushing more, I then had cute waves that looked so much better.
This is because this is a squared barrel and not a round barrel like my other curling wands. With my regular wands I can simply rake my fingers or a brush through my hair ONE time and get a loose looking curl.  With this wand I have to brush/rake about 5 times! However, the good thing about this wand is the curl lasts longer during the day than with my regular wand.
Pros:
–Heats up quickly. This wand heats up within just a few seconds of being turned on. I like this feature because it means you can begin styling really soon after plugging it in.
–Lightweight. This is a lightweight wand and that is a blessing. I have used some VERY heavy curling irons in the past and this is a welcome change.
–Heat glove. I love that this wand comes with a heat glove since my regular wand did not. Having a glove is great for when you need to get close to the wand when curling.
Cons:
–No temperature adjustment. This thing is simply on or off. It is hot or cold and that is all you get. I wish I could adjust the temperature to fit my needs instead of relying on that one heat setting.
–Squared wand edges. This is not a round barreled wand and that is just weird to me. The wand is squared so it does make small kinks when you first curl your hair. The kinks turn into waves when you brush out the curl though, so don't let that scare you away.
To enter the giveaway all you have to do is click below. The giveaway ends on 14 January 2017 so hurry and get your entries in now.
Win a Lee Stafford CHoPstick STYLER Ceramic Curling Wand #5