Here are the top Five ways to save at Bath and Body Works. You know that candles are my weakness but they can be so expensive.
(If you are not reading this post at www.howisavemoney.net or in your feed reader, it may have been stolen from my site.)
Wait for Candle Day.
Candle Day is a day in December when 3 wick candles are priced at their lowest sale price. These large candles are usually at least $22.50 to $26.50 on a normal day. On Candle Day they are reduced to about $8. This price has been increasing, with the 2017 price being $8.95.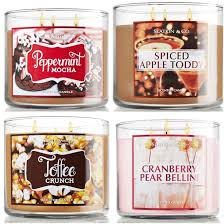 Wait for the Semi Annual Sales.
These sales happen in June and January every year. This is they drastically reduce prices on all items…even some up to 75% off. You do need to get to the store early as people pick over the items. If you go late you may not end up getting the items that you really want.
Use Coupons.
You can sign up for mailed coupons or the store can send them to your email. I make it a point to check my coupons and keep them in my purse. This way I will always have them when I need to use them.
Ask for a Price Adjustment.
Usually if you bought an item at full price and it goes on sale within 7 days you can get an adjustment. It varies by store and you do have to ask the sales associates to apply the price adjustment.
Get free Gift Wrap.
The stores will provide you with a free cellophane bag and a ribbon for every candle you buy. You do have to specifically request these since the sales associates do not offer it at the time of purchase.
So those were my top five ways to save at Bath and Body Works. Do you have any tips for saving?