Welcome to Money Mondays!
(If you are not reading this post at www.howisavemoney.net or in your feed reader, it may have been stolen from my site.)
I used to post my financial inflows and outflows on Fridays, but decided to move this to Mondays. I normally go grocery shopping on Sundays after church. Now I  will post the last week's worth of financial inflows and outflows on Monday so that I can include the weekend spending.
This week my financial outflows were
:
$0 for the electric bill. That is correct, my electric bill was a total of zero for the month. The reason for this is that they applied my deposit to the current bill which ended with me having  a credit of $65.65 moving forward.
I also paid my share of the family plan cell phone.
$73.91 for food shopping this week. As always most of this will last for more than one week but things like fruits and vegetables will need to be replenished every week when I go to the store.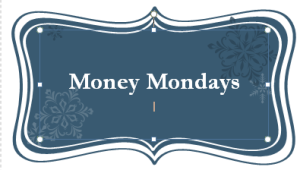 This week my financial inflows were
:
I did not have any inflows at the time of creating this post. We usually get paid on the first business day of the month which is today, but I created this post last night!
I am not expecting any inflows other than my paycheck this month. It would be a nice bonus if I did get some extra money though!