According to this story on the Wall Street Journal , WalMart is making plans to change the logo.
The new logo could possibly an orange background, featuring the word Walmart and a white starburst.
It will look like this and WallyWorld will be replacing all of its signs to reflect the new image.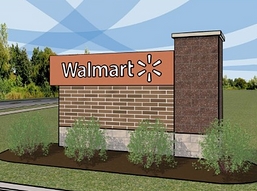 (image taken fromCarlson Consulting Engineers via this page )
I am not too fond of the orange because I think the blue looks a bit classier but hey WalMart does what they do and I will continue to shop there regardless of what the logo looks like.
What do YOU think of the proposal for the new WalMart logo?
(Remember to enter the drawing for a FREE Gas card from How I Save Money to lower YOUR gas bill in July.)