I missed some credit card rewards due to poor planning. I normally rotate my credit card every quarter to take advantage of the cash back rewards. This quarter I used the wrong card and missed some credit card rewards.
(If you are not reading this post at www.howisavemoney.net or in your feed reader, it may have been stolen from my site.)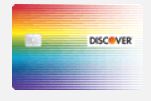 Good news
All of the cards I use have some cash back rewards attached. I firmly believe I should get something back for using the card. Every three months I rotate the card I use for shopping so I can take advantage of the extra cash back.
This quarter my highest cash back was 5% from Discover on a number of places like Walmart.com and Amazon.com. If you know anything about me you know those are my two most frequently shopped sites. This cashback was especially exciting as Walmart.com is usually not included in the cashback offerings of most of my credit cards.
Bad news
I was not actually using the Discover card this quarter. I have no idea how I missed this and it is annoying as I did a lot of shopping from Walmart.com this quarter. We have been having really heavy snow so I've really avoided leaving my house. I also stocked up on a few things so that I would not need to shop again for about two months.
Because of my silly mistake, I missed out on 5% cash back in credit card rewards. I will have to pay closer attention next time!