Every Friday I post about my finances for the week in an effort to monitor my income and expenses. I used to post all of the actual figures but I have recently decided to stop doing this.
I will now post SOME of my actual expenses and leave the rest to your imagination.
This week my expenses were:
$50.94 on gas since I was almost on empty. I filled up the tank to the top but my last trip to the gas station was one month ago so I am not worried about that large amount this month.
This week my income was:
$Paycheck! As I mentioned before we got a very small raise that allowed me to increase the budget for the month by $50. This came just in time as there is a new addition to the family in the form of this sweet little fur face!!!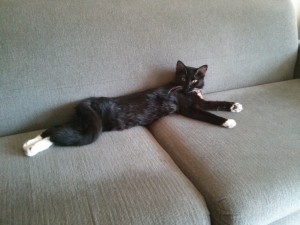 My other fur baby passed on a few months ago and I finally was able to move on and got this sweet baby to love!
I have been VERY busy with school…..exams and projects are coming up these next few days so I have not gone grocery shopping as yet.