On this trip I paid $12.70 out of pocket for $23.98 worth of items. I was trying to make this my last CVS trip as I want to take a break for the rest of the year, but I miscalculated and actually got items that gave me ECBs that I do not want to go to waste. I got the diabetes monitor for my father and since this is November there may be another sale on diabetes supplies at the end of the month.
I will perform my last CVS 2010 transaction in November and will have December to plan for next year. I am going to use up all the ECBs on my final trip, which might be the next one and will also end up spending some cash like I did today. I will make my last trip for some items that do not give ECBs so that I will not have an excuse to come back.
Transaction 1
Item: Diabetic monitor
Price: $14.98

CVS Extra Care Bucks earned: $5.00
MFR Coupon used: $5.00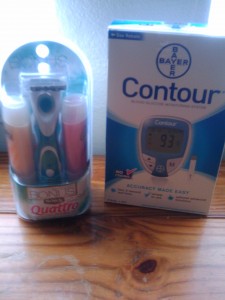 Item:  Razor and body wash combo

Price: $8.98

CVS Extra Care Bucks earned: $4.00
MFR coupon used: $0
Total coupons used: $3.00 ECB + $5.00 MFR
Total paid today: $4.60 , on gift card so the gift card is EMPTY.
Total CVS Extra Care Bucks earned today: $9.00

Total out of pocket to date: $28.54
Gift Card balance : $0.00
Total CVS Extra Care Bucks earned to date: $165.43
CVS Extra Care Bucks Used to date: $156.43
CVS Extra Care Bucks Balance: $9.00
Abbreviations used
MFR = manufacturer coupon
ECB = extra care bucks
Join me next time as I look for more ways to save money as I visit CVS.