So I recently wrote a post about Reusable Toilet Wipes that drew some interesting comments (and emails!!!!).
Just for the record I do agree that using a moist wipe helps with hygiene and does feel better.
In fact I use baby wipes as well AFTER using regular old toilet paper (too much information?) because I feel cleaner that way.
I am not against having that moist wipe usage after using the toilet…I just did not like the idea of using only moist wipes and then having a load of that stuff to wash.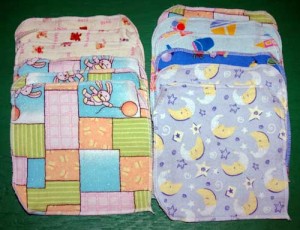 I am sure that they get clean if washed correctly (bleach and hot water) just like regular cloth baby diapers do…..I just don't want to deal with that myself.
While they do help you to save on money from not buying toilet paper you do have to think about the washing costs.
I would need to have mine washed in hot water with lots of bleach and as a separate load to feel comfortable.
If you are interested in getting some reusable toilet wipes you can go to the site called WallyPop that sells Resuable Family Toilet Wipes.