I bought clearance shoes! These shoes caught my eye recently and I was waiting for the price to go down. I decided to check the store today in the hopes of seeing some price reductions.
The exact item did not matter, as long as it was something I had been eyeing for a while.
Why I love clearance.
I am always happy when I buy things on clearance or on sale because that means I am saving the difference. Of course this makes sense ONLY if I was  interested in the item before the price reduction.
Many times we buy things on sale or clearance JUST because they are at a reduced price. I like to make a list of things I want and then I stalk track them to see if the price goes down.
How much I saved.
The good thing about waiting is that the price went down by $10. The shoes were originally $24.99 and I got them for $14.99 on the clearance tables.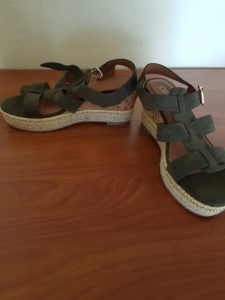 (If you are not reading this post at www.howisavemoney.net or in your feed reader, it may have been stolen from my site.)
Why I love these shoes.
These shoes are PERFECT for summer because they are airy and comfortable. I love wedge shoes because they easier to walk in than regular heels. They are strappy sandals which let your feet get some air and not be too hot.
The dark, olive green color is a great shade that can be worn with many different outfits. I feel I will get a lot of mileage out of this pair of shoes. The fact that I got them for less than $20 is a sweet bonus!
Have you scored any good deals lately?