Hey everyone…..
UPDATE: Dinero  beat out Coupon by one vote. His name is officially Dinero!!!!!
I got a new male cat and I am trying to pick out  a new name for him. I was looking at money related names and put out a call on Twitter. I have narrowed it down to the following four choices:
Dinero (2) (8)

Coupon (5) (8)

Euro (2) (4)

Penny (1) (3)

So far I have gotten a few votes on Twitter…..but still have not made a decision. I left the camera when I went out of town so I don't have a good picture of him now.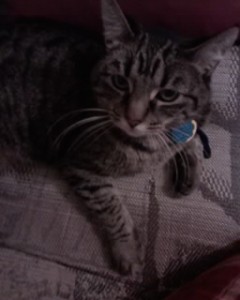 UPDATES:  Dinero and Coupon are now tied and my vote is for Coupon.
Two people suggested Benji (short for Benjamin Franklin). I will be closing the voting today at 4 pm Eastern so kitty can know what his new name is.
Help me pick a name for my little buddy. His new name will need to fit well with the blog and I would like it to be unique.