I've been returning items I don't love. Recently I've had to take things back to the store because they just did not work out.
(If you are not reading this post at www.howisavemoney.net or in your feed reader, it may have been stolen from my site.)

I've always felt strange having to return something even if I haven't used it. There are people who obviously have no problem with returning items. You see them all the time in the store trying to get the store to take back obviously used items.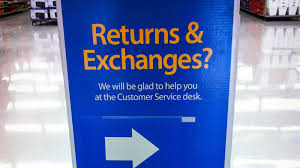 The items I needed to return were not used so I feel slightly better.
What I Returned
My most recent return was a chest of drawers. Technically it was not even a return… more of a refusal. I ordered a chest of drawers and when the drivers were unpacking it we noticed it was badly damaged. I refused the shipment and will be getting a refund. I feel bad about this even though it was not my fault.
Another thing I recently returned was a pair of shoes. I ordered them online in my regular shoe size like all my other shoes. When I tried them on they simply did not fit. I needed to go a half size up in these for whatever reason. They will be the odd pair out in my closet!
Do you feel guilty about returning items?