This year I am instituting a No Buy policy on items that I have multiples of. A No Buy is simply a period where you decide that you will not buy any of a particular item.
(If you are not reading this post at www.howisavemoney.net or in your feed reader, it may have been stolen from my site.)
To hold myself accountable I will continue to post the items I use up in the Shrink My Stash Goals posts that I do at the start of each month.
This month my No Buy is for Laundry Products.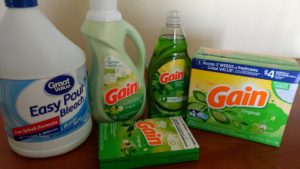 I won the items above in a contest at my apartment complex. There was also a laundry basket included but I do not have it shown here. I got the following items:
-Bleach
-Fabric softener
-Dish washing liquid
-Laundry detergent
-Dryer sheets 
How long will the items last?
Now I know that dish washing liquid is not a 'laundry' item but the majority of the items fall into that category. I am currently finishing up a bottle of dish washing liquid so I think this can last until July.
Bleach is a regular in my cleaning routine so that will be put to good use. It will last me a long time so I really don't think I will repurchase bleach before June this year.
I am not really a fabric softener person so once this bottle is gone I won't actually purchase any more.
Normally I do two loads of laundry every weekend so I am thinking the detergent will last at least until July. There is a little bit of detergent that I am currently using and will start on this one when that is done.
I also have some dryer sheets that I am using and won't open this pack until those are done. Dryer sheets will not be on my shopping list before July as well…even though I sometimes use TWO in one load.
When does the no buy end?
My laundry products no buy should last until July 31st 2017.
I will let you know if I end up buying any laundry products before that time.