Shrink My Stash is a series of monthly posts. In these I will post two separate times. The first will be the Goals for the upcoming month. The second post in the series will be the Update on the products used up during the month.
(If you are not reading this post at www.howisavemoney.net or in your feed reader, it may have been stolen from my site.)
I sometimes buy a lot of products or I buy in bulk because of discounts. Because of this I end up having a stash of certain items that need to be used up. Shrink My Stash will be a concerted effort on my part to make sure I use up the items and avoid waste or clutter.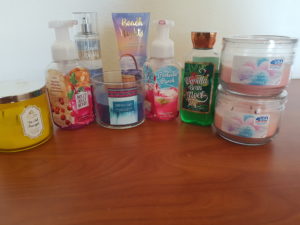 The products for this month are:
Candles:
–Sea Salt Pineapple. This candle is about halfway done. I reach for it on a daily basis so I know I can finish it in about one week.
–Indigo Sky. This was my favorite candle for a while. I do love burning it and use it about twice a week.
–Cotton Candy. These candles are almost done. They are on the lighter side and I burn two at a time. They are the only candles I burn at the same time so they will be finished together.
Hand soap/Body wash:
–Holly Jolly Berry. I am using this one in the bathroom and based on past history it will be done in one month.
–Poolside Punch. This hand soap has been around longer than one month. It is currently in the kitchen and you can see that I have made progress!
–Vanilla Bean Noel body wash. I was using this over Christmas and put it away at the beginning of  this year. I decided to get back to it because I love the scent.
Lotion/Cream:
–Beach Nights. I think I will finish this in about a week since it feels like it is about a quarter from the bottom.
Fragrance:
–Beach Nights. This is the matching body mist to the cream above. I use multiple sprays of this after both morning and night showers. It will be easy to finish this in one month.
This is the list of items I plan to use up by the end of the month. Let's see how I do when I post the Shrink My Stash Update at the end of the month.