Today only (31 October 2016) you can get a FREE Fresh Balsam Candle from Bath and Body Works with any purchase. I got the email last night and included a snip of the promotion.
(If you are not reading this post at www.howisavemoney.net or in your feed reader, it may have been stolen from my site.)
This is a great way to get a free candle since they cost $22.50. I mention all the time that I refuse to pay the full price for candles even though I really love them. I don't mind paying $12.50 or less for the three wick candles and I don't ever buy the smaller candles.
The one exception was last weekend when the medium candles were buy one get one free with my coupon. Those candles cost $12.50 so the deal made it $6.25 each, which I think is a more reasonable price for the size of the jar.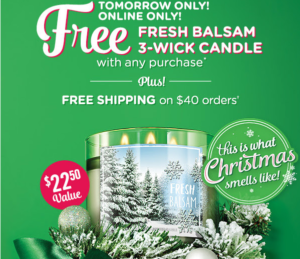 You also get free shipping on all orders over $40. It is easy to rack up $40 worth of items, especially if you get the fall clearance items.
I plan on ordering my candle and will gift it since I do not like the scent of balsam!