I was recently approached by a friend for a little advice on investing in stocks. I was not much help because I do not follow the stock market and really only took the lazy way out and use Sharebuilder to get my stocks.
I gave a few tips to start off but then that conversation got me thinking about my own investments and what I was really doing. When I first started off with Sharebuilder I was buying one stock and the fee per trade was $4. I increased over time to three stocks at the same fee per trade and things seemed to be going well.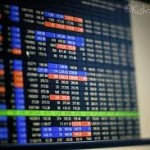 When I logged in today I noticed that I was trading four stocks and saw that the total fees were $16!!! There was a different program that cost $12 per month and allowed you to have 12 trades for that cost.
I did not realize that I was paying more for trading those four stocks individually when I could have had them on the monthly plan for even less. I guess that is one of the pitfalls of setting things and then letting them run without checking them.
I had been blissfully letting the program trade my stocks every month on a per stock basis instead of going to the plan because when I started it was the better value. I did not think to recalculate when I added in more stocks because I was still of the mindset that the individual charge was going to be less than the $12 plan.
I immediately changed over to the $12 plan and added one more stock into my portfolio I just need to make a note to myself if I ever get up to having 11 different stocks being traded then I might just need another plan upgrade. Of course this is not going to affect my monthly budget because the way I invest in Sharebuilder is to put in a monthly amount and then when there is a certain level of money Sharebuilder will buy portions of the stocks I have chosen. Switching over to the monthly plan means there will just be a different allocation of funds in the Sharebuilder account towards stocks and fees.
I am NOT being compensated by Sharebuilder (or my friend) for this post……however, if you would like a referral to Sharebuilder so you can invest please let me know. I will get a bonus for referring you and you will get a bonus for signing up!!!!!!