I got a lesson in delayed gratification today. The idea behind delayed gratification is the  ability to resist something in the present in order to get a better reward in the future.
(If you are not reading this post at www.howisavemoney.net or in your feed reader, it may have been stolen from my site.)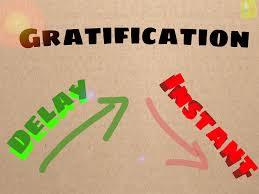 I recently won a very small scholarship to help with summer tuition.
Good News:
I then received an update saying the amount had increased. This is great since more scholarship money is always better!
Bad News:
The amount was now being awarded during the fall semester instead. This was not so great news because I had to cover the amount not paid by the scholarship.
While I was happy to get more money, it would have been really nice to get the original amount now and the 'bonus' later. Now I am being taught a lesson in delayed gratification because the amount is larger in the future.