Here are some of the freebies I earned last week. I have started to apply for free samples from various sites and they usually send me small samples every now and then.
I was excited to get these tea bags from Twinnings because I love tea and drink it at least once a day. I will try to post the images of the things I get along with the links so that you can enjoy some free samples too.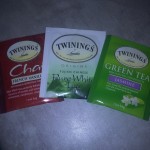 Please note that the sample links expire in a few days and I am not responsible if you click a link that is no longer giving out samples. I am merely forwarding the links as I get them and  I do not control the availability of any product.