Mother's Day is just around the corner and if you are trying to save money on mothers day gifts then you might want to check out 1800flowers to see what is
available. If you order early then you can save up to 40% on floral arrangements or gift baskets.
My mother LOVES flowers, especially orchids so I am looking at getting her something like this beautiful orchid in a metallic pot.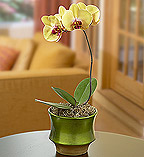 I know that a plant like this would really make her day because she really enjoys taking care of pretty things like this.
I cannot keep a flowering plant alive if my own life depended on it but I can sure grow some cactus and bamboo!!!
Another thing my mother really enjoyed was eating at Red Lobster so that will be my treat to her. I know it sounds cliche but it is something she really enjoys so why not let her have what she REALLY wants on Mother's Day?
What are your plans for your mother this Mother's Day?