Hello everyone,
Bath and Body Works is having the Semi Annual Sale 2016 again this December. If you love to shop there then this is a great time to shop.
(If you are not reading this post at www.howisavemoney.net or in your feed reader, it may have been stolen from my site.)
The semi annual sale 2016 for December began online yesterday and will be available in stores starting on Monday 26 December.
So what's on sale?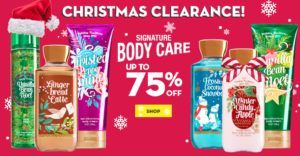 The entire store!! First off there is up to 75% off on most items…including body care. This means you get lotions, creams, and body washes in select fragrances for up to 75% off.
Candles are going for $10…excluding some of the newer ones. The candles normally range from $22.50 to $26.50 for the 3 wick versions. Essentially they are less than half price during this sale so it is a good time to stock up. Soaps are going for $3 apiece so this is a great deal as well.
If you shop online you will have to include the $5.99 for shipping into the cost of your items. It may be worth the drive if you live close to the mall and you can also get your items faster. There are a few $10 off $30 coupons so if you have those it will sweeten the deal.
Money Saving Tip
One idea is to buy three candles at $10 each. With the coupon you spend $20 before tax for three candles!!! This is what I plan on doing tomorrow so that I can get the candles I want and still save some money.