So recently I was able to save money on shirts by buying them in the boys section instead of the women's section. I first found a shirt that was $6 in Boys that cost $13 in womens.
About two weeks later the shirts went on sale (super score!!!!) for $3 each so I skipped over to the Boys section again and got three more (those were the only colors left). I disclosed my findings to a friend to show off my super saving skills…when he turned up his nose at me and said that I was being unethical.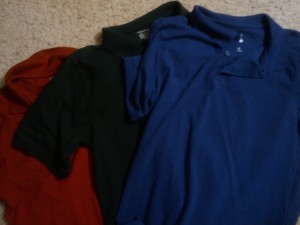 He said that the shirts were marked as boys sizes and were being marketed to boys and their parents so it was wrong of me to purchase the shirts for myself. He went on to further state that I was being a frugal fraud and was depriving someone else of the good deal on Boys shirts by snatching them up for my personal use.
I ended up paying $9 for the three shirts in the boys section, as opposed to $13 for one shirt in the womens section.
I think that I scored a great deal as I now have 5 casual Friday shirts and can wear a different one every week without repeating the same look.
What do you think? Am I being unethical for purchasing Boys polo shirts for myself? Or am I being a savvy shopper (after all aren't polo shirts unisex?) and just finding more ways to save money by thinking outside the box?