Shrink My Stash: Goals For October 2017
Shrink My Stash is a series of monthly posts. In these I will post two separate times. The first will be the Goals for the upcoming month. The second post in the series will be the Update on the products used up during the month.
(If you are not reading this post at www.howisavemoney.net or in your feed reader, it may have been stolen from my site.)
I sometimes buy a lot of products or I buy in bulk because of discounts. Because of this I end up having a stash of certain items that need to be used up. Shrink My Stash will be a concerted effort on my part to make sure I use up the items and avoid waste or clutter.
I have 4 products in my stash that I would like to target this month.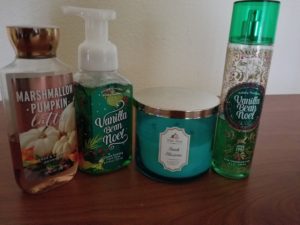 The products for this month are:
Candles:
-Beach Blossoms. This is not a very floral scent to me, despite the blossom in the title. It smells very fresh and clean, like a breeze… if there was a scent to a breeze.
Hand soap/Body wash:
-Vanilla Bean Noel hand soap. I go through about a one of these every month in the bathroom. I love the rich vanilla scent of this and now that it is cooler the scent is perfect!
-Marshmallow Pumpkin Latte body wash. You can see this bottle is about halfway empty. I was using it earlier in the year during winter, but retired it for the warmer months. Hopefully I can finish this one soon.
Fragrance:
-Vanilla Bean Noel fragrance mist. I spray this all over after a shower, regardless of whether I am going out or staying in. If I am going out I will add a whiff of perfume to my wrists on top of this mist.
This is the list of items I plan to use up by the end of the month. Let's see how I do when I post the Shrink My Stash Update at the end of the month.