Sometimes a sale isn't impressive. I noticed a sale from one of my favorite stores but then was immediately let down.
(If you are not reading this post at www.howisavemoney.net or in your feed reader, it may have been stolen from my site.)
What the sale is.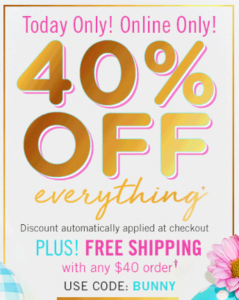 Today the site mentions that you can get the following
40% off on all items PLUS
Free shipping on orders with any $40 order
Now this might be a great deal for certain items but it is not a good deal for 3 wick candles. My most frequent purchases are the 3 wick candles. I always buy items when they are on sale and normally stock up.
I have enough soaps to last for the next couple of months. The soap holders and other decorative items do not grab my attention. Right now, any purchase that I make would be 3 wick candles.
What the prices used to be.
Just a few days ago the candles were buy one get one free. This made a 3 wick candle $12.25 each. About a week prior they were also on sale for $12.95 each.
Since the prior sale prices were lower, today's sale isn't impressive in my mind. At least it does not work for the items I am interested in.
Do you think today's sale is impressive or not?