I just bought some new air fresheners for my classroom and my car because I really do love the clean, fresh scent they provide. I just found out about this contest where you can win a $20,000 home makeover from Renuzit , makers of great smelling air freshening products.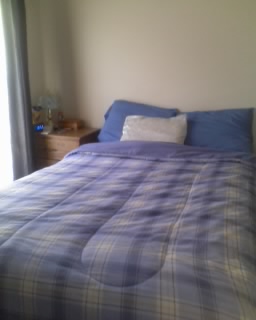 If I had to pick a room I would definitely choose the master bedroom because that is the room I spend the most time in. Right now my bedroom is very plain and boring because I am working with a VERY limited budget while I am trying to save money and pay down my debts.
If I won a $20,000 makeover then I would be able to create a more pleasing space that would help to relax me so I could sleep better at night. I have been extremely stressed lately with all of the medical bills and dealing with the surgery and work so I really need a very relaxing space to come home to in the evenings.
This picture shows my bed area and while blue is a very relaxing color the room is just boring. I do have a small air freshener in the corner so I can get some relaxing scent while I lie in bed but that is about it.
If you look closely you will see that I have black curtains ..which certainly do not match the sheets. I got these black sheets because I have two windows in the bedroom…which allow sunlight to POUR in. Now while this natural light is great for me to save money on electricity , it prevents me from sleeping late during the day and at night when the moonlight comes in.
I got these black curtains to block out the light because they are very heavy and dark. I would like to get some new curtains that match the bedding but right now spending that money is really not a priority.
Scent is very important to me and you guys and gals know how
I am always talking about candles and sprays and things like that. I love burning candles so much that one time I accidentally burned big hole in the carpet ….but that is another story.
If you want to enter the contest to win this fabulous makeover then you must be sure to follow the official rules . Your submissions are only going to be considered as eligible if you follow all three steps listed below. You MUST:
(1) upload video or a photo and essay
(2) Explain and demonstrate why your home needs a makeover
(3) Explain how Renuzit TriScents can help you.
If you follow all the rules then you will be entered into the contest to win the $20, 000 home makeover from Renuzit TriScents where you can have a better looking, better smelling household.
Transform Your Home with Renuzit and enjoy all the benefits that come with the zen like feeling of having fresh scent surround you, while you save money because it all free of charge to you.