Shrink My Stash will be a new series of monthly posts. In these I will post two separate times. The first will be the Goals for the upcoming month. The second post in the series will be the Update on the products used up during the month.
I sometimes buy a lot of products or I buy in bulk because of discounts. Because of this I end up having a stash of certain items that need to be used up. Shrink My Stash will be a concerted effort on my part to make sure I use up the items and avoid waste or clutter.
In the Goals post I will have a list of the products I would like to use up by the end of the month.
In the Update post I will reflect on the products I actually used up for the month.
The Goals for this month are: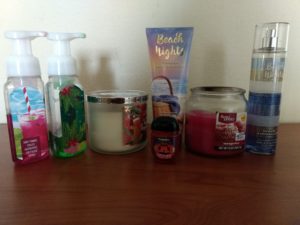 Candles
-Spiced Gingerbread: I like this one but I don't love it, so it may be difficult to burn it very frequently.
-Pink Sugarberry: This candle has started to tunnel so I don't think I will be able to burn all the way to the end.
Hand soap
-Vanilla Bean Noel: This the green bottle, which is in the bathroom, and you can see it is almost done. I usually go through one hand soap in the bathroom in a month.
-Poolside Punch: This is the pink bottle, which is in the kitchen. It is about halfway full and it takes me more than a month to go through kitchen soap. I wash my hands more in the bathroom than I do in the kitchen so that is the reason!
Body cream
-Beach Nights. This one is actually almost done and I may finish it off in the next two days. I use my lotions over my entire body twice a day after showering and then reapply to my hands during the day when I wash them.
Body spray
-Beach Nights: This is the complement to the cream listed above and since it is not as strong as perfume I spray liberally after showering.
Hand sanitizer
-Creep It Real, Pumpkin Pie: I have only recently started using hand sanitizers since I feel they are so drying. I keep one in my purse and one at my desk but I will keep this one on my vanity for use at home as well.
This is the list of items I plan to use up by the end of the month. Let's see how I do when I post the Shrink My Stash Update at the end of the month.