Shrink My Stash is a series of monthly posts. In these I will post two separate times. The first will be the Goals for the upcoming month. The second post in the series will be the Update on the products used up during the month.
(If you are not reading this post at www.howisavemoney.net or in your feed reader, it may have been stolen from my site.)
I sometimes buy a lot of products or I buy in bulk because of discounts. Because of this I end up having a stash of certain items that need to be used up. Shrink My Stash will be a concerted effort on my part to make sure I use up the items and avoid waste or clutter.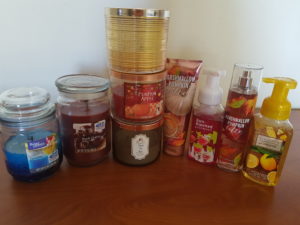 I have 9 products in my stash that I would like to target this month.
The products for this month are:
Candles:
–Paradise Punch.
This is a sweet and fruity blend and smells just like fruit punch.
–Black Cherry.
This candle may take longer than the month to get through since it is so tall. As you can see I have barely made a dent in it!!
–Sugarcane Pineapple.
This yellow candle on the top of the stack may get done in three burns. I love pineapple scents and I can burn this daily.
–Pumpkin Apple.
This one is about three quarters done so I am confident I can finish it by the end of the month.
–Black Tea Rose.
This smells JUST like a black tea bag. I could burn it every day!
Hand soap/Body wash:
–Sun Ripened Raspberry soap.
This will go in the bathroom.
–Sunshine and Lemons soap.
This will go in the kitchen.
Lotion/Cream:
–Marshmallow Pumpkin Latte.
I know this is a fall scent but I wear what I like at any time of the year.
Fragrance:
–Marshmallow Pumpkin Latte.
This will be my allover fragrance, after lotion, but before perfume.
This is the list of items I plan to use up by the end of the month. Let's see how I do when I post the Shrink My Stash Update at the end of the month.