Welcome to Money Mondays!
(If you are not reading this post at www.howisavemoney.net or in your feed reader, it may have been stolen from my site.)
I used to post my financial inflows and outflows on Fridays in the past but I decided to move this to Mondays instead. Normally I go grocery shopping on Sundays after church. Now I  will post the last week's worth of financial inflows and outflows on Monday so that I can include the weekend spending as well.
This week my financial outflows were:
$13.00 on a car wash. I have not washed my car for at least a month…maybe more. I splurged on the wax treatment as well because I think the car needed some TLC.
I used to wash the car every other weekend as I had built up money in the Car Maintenance Fund. I had some large repairs that ate up the fund so I stopped getting frequent washes. I will go back to getting the $5 wash every other weekend.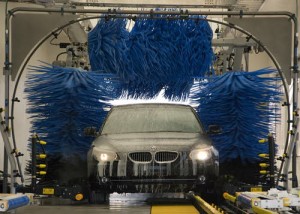 $27.35 on produce for the week. This included three packs of fish filets that had been reduced. I usually use one filet on a salad and this makes a great meal. Sometimes the filets are big and I can cut one in half and use it that way as well.
I also bought a container of strawberries. I try to have a fruit or vegetable with every meal. I alternate the strawberries with canned oranges at breakfast!
This week my financial inflows were:
$19.27 from my Lending Club repayments. Periodically I check my loans and fund a $25 loan with any repayments. Any amount remaining after funding a loan is transferred to my checking account. I don't have a set schedule for checking so the amount varies.
That was really it for me on spending. We actually had Spring Break last week but I did not go anywhere.