Twisted Peppermint is one of my favorite candles from Bath and Body Works. On 26 October 2017 you can get a FREE candle with purchase!!!
(If you are not reading this post at www.howisavemoney.net or in your feed reader, it may have been stolen from my site.)
Twisted Peppermint is a blend of peppermint and vanilla…like those little red and white striped candies.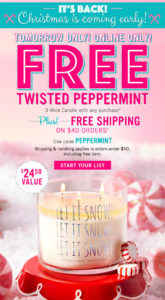 I always get one of these candles to burn through the winter because it is a very pleasant scent. The peppermint is also strong enough to help with breathing issues if you get stuffy around this time.
How To Get It
To get the free candle you simply have to make a purchase online. Simply add an item to your cart and then add the 3 wick Twisted Peppermint candle. Then you enter the special code PEPPERMINT in the box before checkout and the 3 wick candle will change to a free item.
If your order totals less than $40 you will have to pay the shipping costs… usually $5.99. If you want to get free shipping then your order will have to total more than $40.
When It Ends
This deal is only available for one day: Thursday 26th October 2017 only.
Note that this is NOT available in stores.