Hello everyone,
Today I am reviewing some Youcopia storage products and there will be a giveaway as well. You know that I live in a small space AND have a roommate so space is limited. I have been trying a number of different storage solutions in different rooms to be more organized.
Youcopia makes products for kitchen storage but some of them can be repurposed for other rooms as well.
Youcopia Lid Holder
This is a really nifty product since it keeps lids for pots and pans organized. You can get the lid holder at Target by clicking this link.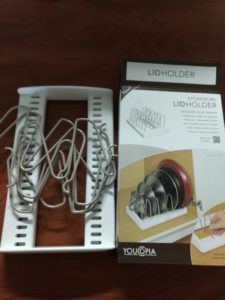 The lid holder is adjustable so you can make the slots bigger or smaller as needed. There is a groove for the lid handle to go, which makes the storage system very stable. Your lids will NOT roll around when you use this product.
Youcopia Drawer Storastack
This product allows you to save space while keeping containers with their lids. You can get the lid holder at Target by by clicking this link. With the Storastack I was able to align the lids of the containers with the actual containers.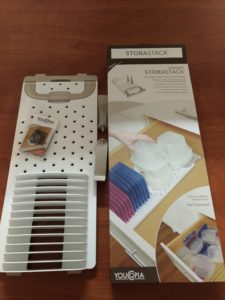 This item did not work very well for me because my lids have a ridge on them.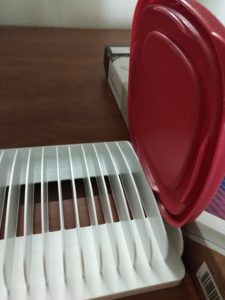 The width of the ridge meant that the lids did not fit into the grooves properly and would slip out. This is something to consider if your container lids are not perfectly flat on both sides.
Youcopia Spice Steps
This was actually my favorite product of all since I have so many spice bottles. You can get the lid holder at Youcopia by clicking this link.
Here is what my storage space looked like before I used the products.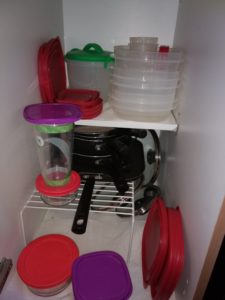 This is what my space looked like after I used the products.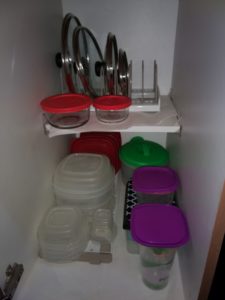 I did have to move the pots and pans out of the cupboard because they would not fit after using the system. This may not be an issue for most people but this is the only storage space I have in our tiny place. I think if I had more cupboards this would be an awesome system for me. I am actually looking at moving next year after graduation…and not having a roommate. This means I would have more space and would be able to organize things better.
Now for the giveaway. You can view the details below to enter. Giveaway ends on 21 December 2016 so hurry and get your entry in today!!!
Win a YouCopia product of your choice #10